CRY FOR HELP | Visayas once again asks for your aid; here's how you can give
InterAksyon.com
The online news portal of TV5
Note: This story will be updated periodically to accomodate new information on donation drives and fundraising activities of various groups.

MANILA - (UPDATED, Nov 11, 2:47 p.m.) While Visayas was picking up the pieces after the devastating earthquake last month, another calamity has struck these islands that left hundreds--if not thousands--dead and millions homeless. They are asking for your help.
Facebook user Chase Lynn Chua, whose own home in Daang Bantayan was among those that sustained heavy damage, said the towns in Northern Cebu like Daan Bantayan, Bogo, Medillin, Bantayan Island, Malapasqua Island and others are also badly hit by Super Typhoon 'Yolanda'.
"We are in need of food. From the reports that we got, they have close to zero food supplies since everything got wet. Massive damage are caused in the area. No electricity and communication lines are down. The evacuation center itself was damaged. Other people who already contacted us said that it was like an atomic bomb was dropped in these areas. Wooden houses didn't survive, sugar cane plantations wiped out and more. It is really heart-breaking," she wrote in her Facebook status.

She said their group, which was formed to help in the Central Visayas quake, would be collecting:

1. Food - please donate food that can be shipped out. Canned food, noodles, etc.
2. Water - bottled water
3. Medical Supplies - meds for cough, colds etc.
4. Toiletries - basic toiletries soap, toothbrush, toothpaste, shampoo

You can drop these donations at:

TOKYO POSH EASTWOOD
3/F Eastwood Mall - Beside Me and You
Please look for Jocelyn

TOKYO POSH ROCKWELL
R2 Level, Power Plant Mall - Beside Draft
Please look for Joanne

ENERGY.
Unit 9-C Scout Rallos St. Brgy Laging Handa Quezon City
You can leave them with the security guard - There's gonna be a box there soon!

For CASH DONATIONS
You can also drop it at

TOKYO POSH (please seal it in an envelope)
ENERGY Head Quarters (please seal it in an envelope)

OR

You can directly deposit them to:
Bpi # 1619097684, Lynn Trixy A. Villegas, Savings Acct.

For other questions and concerns:
You can text me, Chase Chua, at 0949-7551808
The town of Basey, Samar is also one of the most devastated towns in Eastern Visayas, just adjacent to Tacloban City in Leyte. It is asking for aid also.
From the Official Facebook page of Catbalogan City, Samar:
Without any electricity or communication channel available to them, the Municipality of Basey is literally cut-off from any form of aide and is left to fend off for itself.

A team was deployed by the Local Government Unit of Catbalogan City to determine the extent of the damages wrought by Supertyphoon Yolanda to the Municipality of Basey. Courtesy of Municipal Information Officer Mercy Caboboy, they have brought the following images.

According to her, almost 85 - 90% of the households and structures were damaged and as of 8:00 this evening the number of casualties in three poblacion barangays and one island barangay may be broken down into the following figures:

Brgy. Loyo - 9
Brgy. Baybay - 13
Brgy. Palaypay - 31
Brgy. Salvacion (island) - 35

The aforementioned figures reflect only the casualties that were in plain view and do not include those that are still to be searched from debris and rubble.

Up until this time, a word or information about the current plight of the Baseynons have yet to reach the proper agencies hence, no proper and sufficient aide have been extended to them.

According to Caboboy, the residents are in need of the basic commodities like food water and clothing, while the town is especially in need of body bags for their casualties.

For any form of assistance or donation, interested parties may contact Mercy Caboboy, the Municipal Information Officer at 0949-771-9189 / 0926 - 702 - 4498.


Here are others who also receive donations to help those who were devastated by 'Yolanda'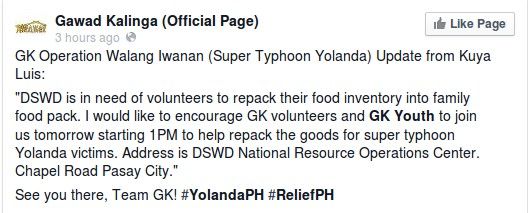 Philippine Airlines
PAL Activates Humanitarian Cargo Grant



Philippine Airlines will start the free airlifting of critical supplies and relief goods for victims of typhoon Yolanda in the hardest hit areas of the Visayas region following the resumption of operations of some of the affected airports.

The PAL Humanitarian Cargo Grant, which is open to government agencies, SEC-registered foundations, NGOs, non-profit, charitable, civic and religious organizations will cover the following necessities: medicines, medical supplies, powdered milk for infants, hygiene products; toiletries such as new underwear, ready-to-eat products, and other nutritious foods, which cannot be readily sourced in the affected areas.

To help ensure the efficient processing and delivery of goods, PAL said that only donors under the said categories, will be eligible to avail of the grant.

To maximize cargo space for these critical necessities, the grant will not include products that are either already distributed by the local government units or available near the calamity-stricken areas. These include canned goods such as sardines, noodles, and bottled water.

PAL will fly the goods on a space availability basis.

Donors only need to contact the PAL Foundation at telephone numbers (02) 851-2980 or (02) 8526090 (telefax) or email palfoundation@pal.com.ph and provide their name, the contact information of the consignee, and a list of the contents of the shipment.

The PAL Foundation will then contact the donors to inform them whether their shipments are eligible for free airlift.